Do you have a hockey training question? I'm always happy to hear from you! Just contact us through the email message box below.
I'm looking forward to hearing from you and eager to help you with anything hockey related. Contact Us at Hockey Strong. I'll try to answer your hockey training question or hunt down the answer if I don't know.
Or you may find some answers in our blog.
Why Hockey Strong
Through my hockey coaching and strength and conditioning and through discussions with hockey players or parents like yourself there seems to be a common thread. Hockey players need help with where to start with off ice training and hockey players need help getting stronger. At Hillside I try to solve a lot of these questions by training athletes and hockey players. So I decided that I would create this site and see if I can transfer some of my knowledge on to you. Hopefully through some guidance, together we can take your game to the next level.
If Your Interested In Training
I've got you covered with The Bodyweight Workouts – The Bodyweight Workouts are a great starting point for any young hockey player or the workouts are also perfect for anyone that does not have access to a gym or equipment. It's 20 weeks of workouts at your fingertips!
The Body Weight Workouts
20 week Tier 1 Training Program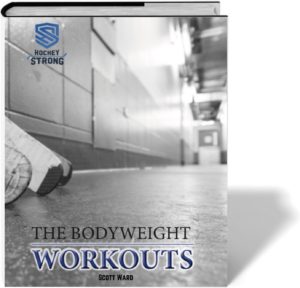 Or you may be looking for something more comprehensive like Kevin Neeld's Ultimate Hockey Transformation – Looking for a program that encompasses resistance with weights, kettlebells etc., you may want to check this program out. Kevin is currently the Head Performance Coach for the Boston Bruins and has worked with the Women's Olympic Hockey Team.
Ask Your Question below:
Email us at [email protected]