Here's the second edition of The Hockey Strong Power Play.  You can check out the first edition of Hockey Strong Power Play here. The Hockey Strong Power Play is a collection of articles from some of the industries best minds when it comes to hockey training, sport conditioning, performance nutrition, sports psychology, and much more.  I have scoured the web to find you the most pertinent information, cutting edge secrets, and proven foundational cornerstones to take your game to the next level.  I will do everything I can to bring you all you possibly need to improve your performance on the ice.
Speed Training
I'll start off this edition with one of the greatest minds in hockey training today.  It's none other then Kevin Neeld of Endeavor Sports Performance.  He is also Manual Therapist of the Philadelphia Flyers Junior Team, and Assistant Strength and Conditioning Coach with the U.S. Women's National Hockey Team.  Also as mentioned in the last Power Play, Kevin has launched a performance apparel company.  It is Endeavor Athletic Apparel which is also currently on Indiegogo running a campaign.  This is something you should definitely check out if you are interested in cutting edge exercise wear.
Kevin recently wrote an article on 11 Speed Training Tips which gets into the specific movement demands of the skating stride, quick start training, and much more.  One thing that is great about this article is how it defines the muscles needed during a skating stride. It also explains physical qualities that can limit the development of speed.  Hope you enjoy it.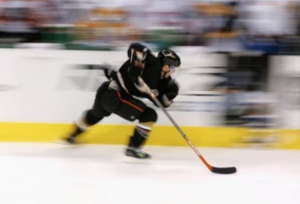 Core Training
Core training has become synonymous with abdominal training, crunches, and six packs. In this article, Modern Core Training by Strength Coach Josh Henkin over at Ultimate Sandbag you quickly find out there is a lot more to core work then just blasting the abs. Not only are there more muscle groups involved when it comes to training the core, it is sometimes best trained while resisting movement.
Red Meat
I want to end off with a great article which clears up a lot of the fear instilled in every red meat eater on the planet a couple days ago with the announcement by the WHO in regards to the link between red meat and cancer.  Cancer Research UK explains the details of the announcement in this well written article and stresses the important points you need to know to make an informed decision on whether or not you want to be eating red meat and processed meats.  Hint: Moderation:).
Everyone is more then likely well into their hockey season now, so remember if you are having any issues with your on ice performance or off ice training just let me know below in the comments or on Twitter or Facebook and I'll do my best to help you out.
That's it for another edition of the Hockey Strong Power Play.
Later.
Scott
Don't forget to like Hockey Strong on Facebook and Twitter and a comment down below:)