Hockey Off Ice Training Program Options
Take your game to the next level! Improve on ice performance with off ice training.
Here's one of my hockey players in action above at my gym in Prince Albert(Hillside Physical Health and Fitness)
1. The Bodyweight Workouts – The Bodyweight Workouts are a great starting point for any young hockey player or the workouts are also perfect for anyone that does not have access to a gym or equipment. It's 20 weeks of workouts at your fingertips!
The Body Weight Workouts
20 week Tier 1 Training Program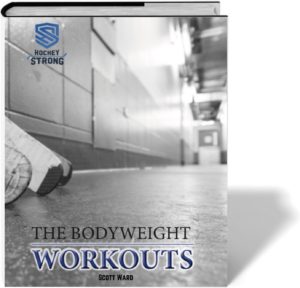 Click here to get the Bodyweight Workouts Now!
2. Kevin Neeld's Ultimate Hockey Transformation – Looking for a program that encompasses resistance with weights, kettlebells etc., you may want to check this program out. Kevin is currently the Head Performance Coach for the Boston Bruins and has worked with the Women's Olympic Hockey Team.
3. Speed Training For Hockey – If you are more interested in strictly increasing skating speed, Kevin also has a great book which explains exactly how to improve your skating speed and explosiveness.
4. Here is a collection of workout resistance equipment that you can get from Amazon sent right to your door.
5. Tier One Hockey Training – The Ultimate Training System!