Hockey Strong Newsletter – The Year Of Training
Unlike any other year, games are at a premium.  You could say the 20/21 hockey season is the year of training.  Practice, practice, practice.  It's definitely not the way anyone envisioned it to go down, especially the kids.  all we can do as parents is support our kids and reinforce the fact that it won't always be like this and they will come out a better hockey player on the other side.
On another note, welcome to the new and improve Hockey Strong Newsletter. I'm going to try my best to bring you the best info on everything hockey training every one to two weeks.  With your feedback I'm hoping to make this the best hockey training resource out there.  
Quick Feet Really Means Explosive
You will hear a lot of coaches telling kids to improve their "foot speed' or get "quick feet".  What they are really trying to tell the young athlete is get more explosive and more coordinated.  The coach wants a player to move with more fluidity and control.
Nutrition
Creatine Supplementation For Youth Athletes
Known for being one of the most studied supplements in history, Creatine has probably had the most impact with athletes.  To be more specific athletes that are competing below an elite level.  It seems that the less experienced you are with resistance training the more impact Creatine has on the body.
Strength
Power
and Fat-Free Body Mass
These benefits
are highly sought after for anyone participating in a high speed high impact sport such as hockey.
As far as side effects, some athletes may experience water retention and dehydration as well as stomach upset depending on the dose.  Creatine Monohydrate is the supplement most studied as apposed to other forms of Creatine on the market.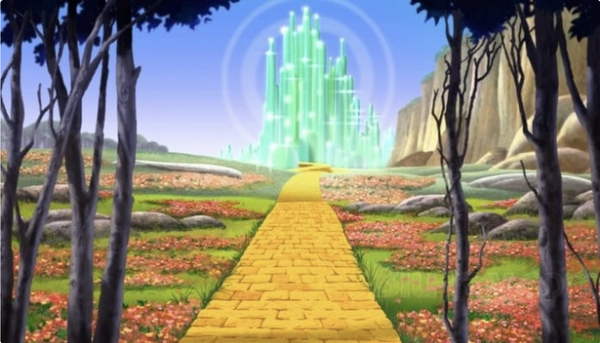 Google Image
It may not be the Yellow Brick Road, but in respect to helping someone reap the rewards at the end, I would say it's just as grand! The Royal Road is an imaginary line that goes completely through the centre of the ice
from one end to the other.  It separates the ice into two equal parts.
"A puck crossing this imaginary line immediately preceding a shot, increases a shooters scoring chance by over 10 times!"
High percentage opportunities are broken down as follows:
Passes across the Royal Road 22%
Screens 10%
One-Timers on the same side of the Royal Road 9%
Broken plays 9%
Possession across the Royal Road 8%
Deflections 8%
Great Rebounds 8%
Better shot quality AKA utilizing the Road Road can significantly improve your child's chance of scoring.  Remember if you make the goalie move or try not to let him or her have a clear view of the puck, scoring chances go way up!
Power Play
Bodyweight Exercises
 – the perfect way to improve hockey performance off the ice and when training facilities are at a premium.
Words of Wisdom
"The most important measure of how good a game I played was how much better I'd made my teammates play."